KaBOOM! – Oak View Park Project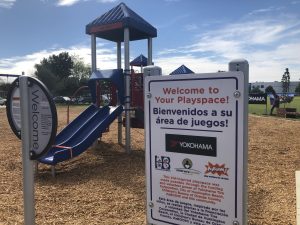 On February 27th, Coast Recreation was proud to participate in the KaBOOM! Build for Huntington Beach's Oak View Park. There were over 250 volunteers and the weather was PERFECT. It's AMAZING what we all can do when we work together to make something happen. Congratulations to all that played a part in making this a successful build for the kids!
The new playground will bring more than 2,500 kids in Huntington Beach one step closer to having the play-filled childhood they deserve. This build was a combined effort from Yokohama Tires, the City of Huntington Beach, Children's Bureau of Orange County and KaBOOM! Yokohama Tires not only helped financially, they also sent over 200 employees to the site on install day to help with the build.  As the rep organization for the playground equipment, Coast Recreation helped facilitate the installation and relied on their certified installer, Tot Lot Pros, to help with the build and lead groups of volunteers.
KaBOOM! is a national non-profit dedicated to ensuring that all kids get a childhood filled with the balanced and active play needed to thrive. KaBoom! recently has named Landscape Structures as it's "Partner in Play" which is their primary supplier of playground equipment and partner in building hundreds of play spaces in need across America, Canada and Mexico.  Landscape Structures and KaBOOM! will work to build innovative, inclusive play spaces throughout communities – schools, parks, housing and beyond – so that all kids feel valued and loved, and their potential is supported, nurtured and celebrated. Over the course of their three year agreement, the partners are expected to build more than 400 play spaces across North America.
For more information about KaBOOM! or Landscape Structures, contact us.