Bison, Inc.
Coast Recreation is excited to announce that we are now an Authorized Dealer for Bison, Inc products!  Their sports equipment product list has everything you can possibly need on and off the fields and courts.  With a long standing history, equipment manufactured here in the United States and a passion to be competitively priced and superior quality, we are proud to partner with this well know manufacturer.
About Bison, Inc.: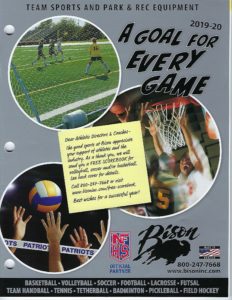 Since 1985, athletic directors, coaches, facility administrators, and equipment managers have relied on the good sports at Bison to provide safe, durable, innovative and on-time products to fit their unique sports equipment needs. And, homeowners can rest assured that Bison's leadership in institutional-quality equipment translates to providing the best equipment available for families as they grow and change.
Initially known in the industry as a basketball equipment supplier, Bison has added a full line of volleyball equipment to its product lineup as well as goals for soccer, football, and many more sports, largely at the request of our loyal dealers nationwide. Whatever sport your heart desires, Bison has A GOAL FOR EVERY GAME.
Centrally located in Lincoln, Nebraska, Bison's manufacturing and warehouse facility covers over 100,000 square feet. Most orders are shipped from available inventory as we stock our warehouse with the products you need when you need them. In an era where a high percentage of sporting goods equipment is manufactured "offshore", Bison continues to offer competitively-priced superior-quality equipment that provides jobs to over 100 hardworking Americans.
Visit our product page Sports & Athletic Equipment for more information.